"Sleep" by various artists was released from Domo Records, and it will be featured on the FRONT PAGE of CD Baby from Monday, April 23rd 2007!
Here is the review by CD Baby:
Featuring music by some of the most well-known relaxation artists in the industry, including Grammy award winning composer, Kitaro, Susan Mazer & Dallas Smith, Stephen DeRuby, Dave Eggar, Uma, Yu-Xiao Guang, Toshiyuki Honda, Akasau and Lee Blaske, this compilation is specifically designed to induce sleep and create a tranquil atmosphere for full-body relaxation. With ten tracks of well-varied and yet cohesive sound journeys, Sleep does a beautiful job of taking the mind, body and emotions through delicate and nurturing worlds of imagery and sound, from tapestries of silky flute and strings, blending with guitar, erhu and koto, to new age piano and synthesizer soundscapes. Based on the latest in psychoacoustic research, each carefully chosen song is specifically designed to ease tension, direct the mind away from stress and comfort the heart and soul of the listener. If you're looking for an album to accompany you in meditation or general relaxation as well, this disc comes highly recommended all around, combating the rush and pace of life today.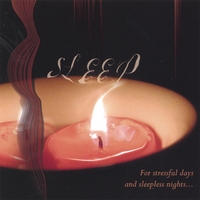 To check out this record and listen to samples of ALL the tracks,click here or the album.